https://bongino.com/heroic-texas-parishioners-shot-and-killed-gunman-6-seconds-after-attack-began/
Two Texas churchgoers have been credited with saving dozens of lives in a matter of seconds after a deranged man armed with a shotgun opened fire inside their place of worship.
The shooting occurred at the West Freeway Church of Christ in White Settlement, TX yesterday and the unnamed gunman shot and killed two parishioners before two volunteer church security guards returned fire.
The shooting occurred around 10 a.m. CT and according to Lt. Governor Dan Patrick, the incident was over within six seconds thanks to the quick response from armed parishioners.
At a press conference on Sunday, Patrick called the heroism of the parishioners "unparalleled" and said, This team responded quickly and within six seconds, the shooting was over."Advertisement
According to White Settlement Police Chief J.P. Bevering, the gunman sat down with parishioners and then got up, pulled out a shotgun and shot two churchgoers who later died at a nearby hospital. The victims ranged from ages 30 to 60, according to the ambulance service provider that responded to the scene.
A witness to the shooting told KTVT the gunman walked up to a server with a shotgun during communion and opened fire before parishioners inside the church took him down.
"It was the most scariest thing. You feel like your life is flashing before you," Isabel Arreola told the television station. "I was so worried about my little one."
Texas Gov. Greg Abbott called the shooting an "evil act of violence."
In a statement, he said, "Places of worship are meant to be sacred, and I am grateful for the church members who acted quickly to take down the shooter and help prevent further loss of life. Cecilia and I ask all Texans to join us in praying for the White Settlement community and for all those affected by this horrible tragedy."
Statement on shooting at West Freeway Church of Christ in White Settlement: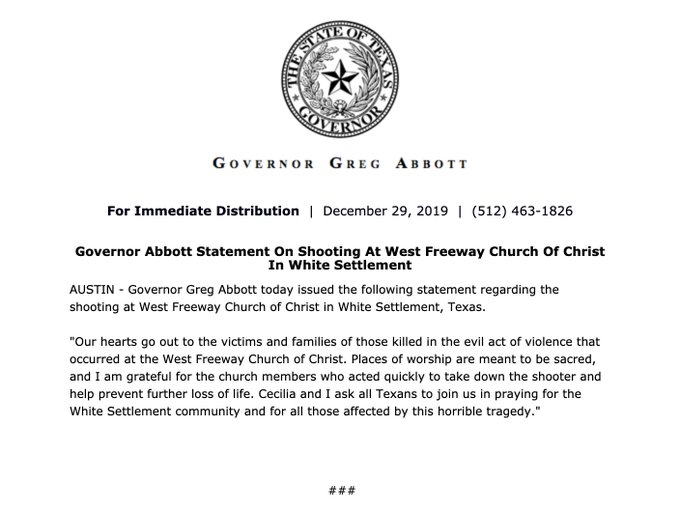 1,9682:17 PM – Dec 29, 2019Twitter Ads info and privacy1,534 people are talking about thisTurning Point USA's Chief Creative Officer Benny Johnson pointed out on Twitter that former Vice President Joe Biden previously attacked Governor Abbott for signing a law allowing people to carry guns into places of worship.
In September in Iowa, Biden said to reporters, "Dealing with firearms, it is irrational, with all due respect to the governor of Texas, irrational what they are doing. On the very day you see a mass shooting … and we're talking about loosening access to have guns, to be able to take them into places of worship, it's just absolutely irrational. It's totally irrational."Advertisement
Johnson wrote on Twitter, "Biden savaged Texans for allowing citizens to carry in church. Three months later, an armed Texas Christian dropped a church shooter with one shot. The gunman could have killed many, many more had there not been multiple armed Christians ready to defend their flock to the death."